House Judiciary Committee passes articles of impeachment against President Trump
(ABC News) — The House Judiciary Committee on Friday morning voted along party lines to pass two articles of impeachment against President Donald Trump, sending them to the full House for historic final votes expected next Wednesday.
The committee favorably recommended charges of abuse of power and obstruction of Congress to the full House.
Trump is now the fourth president in American history to face impeachment by the U.S. House of Representatives.
Both votes were passed 23-17. One member, Rep. Ted Lieu, D-Calif, missed the vote, after undergoing a heart procedure earlier this week.
The Judiciary Committee will send both articles - along with an accompanying report - to the House Rules Committee, which is expected to meet on Tuesday to formalize the floor debate on the charges.
The House is expected to hold two votes - one on each article of impeachment - on Wednesday.
The committee voted briskly in just ten minutes Friday morning, after a raucous and bitter 14-hour debate on the charges Thursday that lasted well into the night.
A last-minute decision by Chairman Jerry Nadler to vote Friday morning triggered fury from Republicans who complained that Democrats were doing so to get better ratings during the daytime than voting late at night. Democrats said they wanted to make sure the American public could witness the vote and the reasons members gave, and said, if they didn't, Republicans would accuse them of taking an impeachment vote in the dead of night.
Democrats argue the president abused his power by pressuring Ukraine to investigate his leading political opponents, for his personal benefit, by withholding obsessionally-approved military aid, and then blocking Congress' efforts to probe what happened. They say he violated the Constitution and, if left unchecked, would have the power of a dictator, and that his efforts pose a "clear and present danger" to the 2020 election.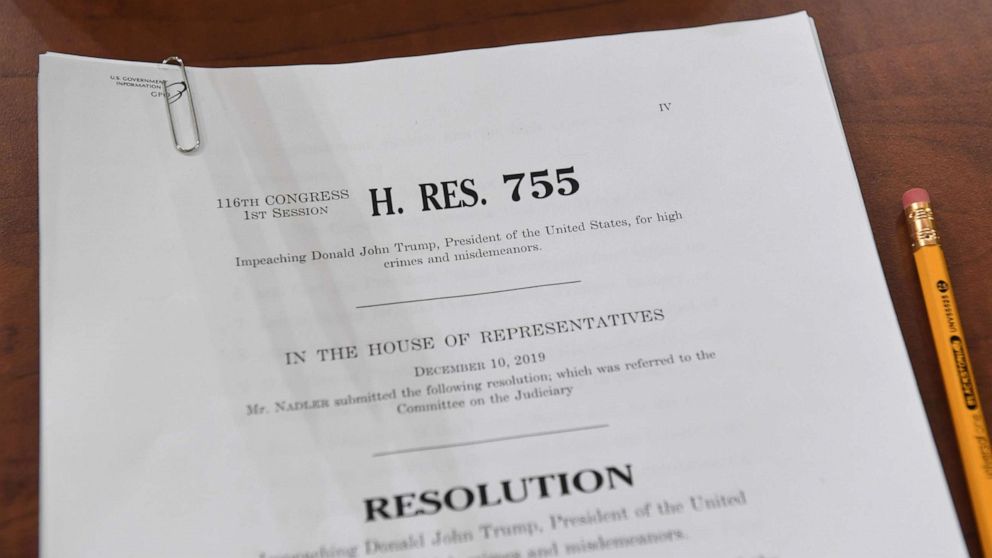 Republicans argue the articles don't accuse the president of a specific crime, that the abuse of power charge is a vague and nothing more than a dispute over policy, and that Democrats are motivated by simple dislike of Trump and a long-standing desire to overturn the results of the 2016 election.
While there was no immediate reaction from Trump, White House press secretary Stephanie Grisham issued a written statement after vote.
"This desperate charade of an impeachment inquiry in the House Judiciary Committee has reached its shameful end. The President looks forward to receiving in the Senate the fair treatment and due process which continues to be disgracefully denied to him by the House," she said.