DIGGING DEEPER: Major donors 'pause' contributions to Banks, other lawmakers
FORT WAYNE, Ind. (WPTA21) - Several of the Top 20 contributors to U.S. Rep. Jim Banks' 2020 reelection campaign say they will suspend their financial support of him and of other lawmakers who objected to the certification of Electoral College votes last week.
Some are stopping their political contributions entirely -- for now.
During the vote certification process -- which was disrupted when protesters forced their way into the Capitol -- 139 Republican members of the House of Representatives objected to the approval of electoral votes from one state or more.
Since that tumultuous day, some donors have stated they will halt monetary donations to those congressmen and to eight senators who voted to block certification, and other PACs said they will suspend all political giving.
A pause... for some
ABC21 has been Digging Deeper into the practices of the most influential PACs in northeast Indiana, which are an extension of some of the world's most recognized companies.
For Banks, top donations in the past election cycle came from PACs associated with companies like Boeing, Comcast, AT&T, Home Depot, General Motors and Indianapolis-based Eli Lilly & Co.
MORE DETAIL: Top contributors to Banks' reelection campaign as reported by the Center for Responsive Politics
The latter company -- a leading pharmaceutical firm -- contributed $10,000 through its PAC to Banks' campaign committee this past cycle.
But an Eli Lilly spokesperson said it will suspend donations to Banks and to others who voted similarly following last week's developments.
In a statement provided to Indianapolis' WISH TV, the spokesperson said that LillyPAC expects recipients of its contributions to show "respect for people and respect for our democratic process and institutions.
"As such, LillyPAC will suspend political giving to those who voted against certification of the 2020 election results."
ABC21 sought additional information from Eli Lilly but our inquiries had not been answered as of late Tuesday afternoon.
Telecommunications giant AT&T added $8,000 to Banks' campaign account for 2020.
But this week, the company announced it would halt contributions to the "members of Congress who voted to object to the certification of Electoral College votes last week."
It posted that position on its social media pages, to make its decision widely available.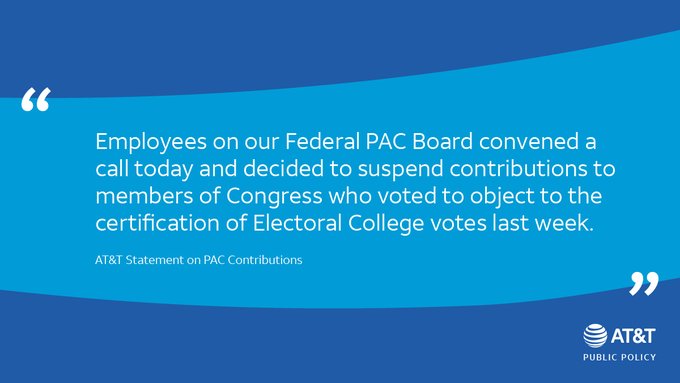 Comcast, which counts NBC network and cable properties among its holdings, said it will do likewise. A statement from the company reads:
"The peaceful transition of power is a foundation of America's democracy. This year, that transition will take place among some of the most challenging conditions in modern history and against the backdrop of the appalling violence we witnessed at the U.S. Capitol last week. At this crucial time, our focus needs to be on working together for the good of the entire nation,"
A Comcast PAC gave $8,000 to the Banks campaign.
Leidos, a global defense and technology contractor, told ABC21 it, too, will halt contributions -- but not just to selected lawmakers.
A statement from its chairman condemns "violence, lawlessness and anarchy" and noted that "Leidos' Political Action Committee (PAC) has decided to temporarily pause all political donations."
Leidos was a $10,000 donor to the Banks campaign.
That same position has been adopted by BAE Systems, which also made a $10,000 contribution to Banks.
"In response to the deeply disturbing violence at the U.S. Capitol on January 6th, our U.S. political action committee has suspended all donations while we assess the path forward," BAE spokesperson Tammy Thorp told ABC21.
And the National Beer Wholesalers Association ($8,500 contribution) told us this:
"All Americans are outraged and saddened by what we saw at the Capitol last week and by the behavior of some of our elected leaders. NBWA's PAC supports Congressional candidates and elected officials on both sides of the aisle that understand the issues affecting Main Street businesses. Last week's actions require that we all pause and reflect on that support. NBWA congratulates President-Elect Biden and Vice President-Elect Harris and looks forward to working with the new administration and Congress in the coming years."
'Evaluating' the situation
Certainly, not all PACs have pressed the pause button, though some said they would, at the very least, re-examine their policies or practices.
When asked by ABC21 whether anything has changed regarding its contributions to Banks, Home Depot provided the following response:
"Our PAC supports candidates on both sides of the aisle who champion pro-business, pro-retail positions that create jobs and economic growth. While the PAC hasn't made any decisions on the next cycle, as always, it will evaluate future donations against a number of factors."
Home Depot contributed $10,000 to the Banks campaign committee.
Banks: Pelosi called it 'Democracy at work'
The day before the vote -- and the disturbance -- Banks tweeted that he would follow through on his pledge to object to some states' electors, noting that members of both parties have taken such steps before.
Banks cited 2005 as an example.
Though Congress overwhelmingly approved the results of the presidential contest between incumbent Pres. George W. Bush and challenger Sen. John Kerry, Democrats in both chambers did object.
California Sen. Barbara Boxer, at the time, said the intention was to raise awareness regarding problems with voting in Ohio, specifically.
The objections delayed certification by about four hours.
ABC21 reached out to Banks' office for comment on the PAC developments. A representative declined to comment.
Banks, now in his third term, overwhelmed his November challenger both at the polls and in the race to raise money.
He out-fundraised Democrat Chip Coldiron by a 12-to-1 margin. More than half of the overall contributions to Banks came from PACs, according to the Center for Responsive Politics.
Most of Coldiron's limited funds came from individuals.
Purdue Fort Wayne University Prof. Michael Wolf said the Eli Lilly announcement was noteworthy because of the outsized role that company plays in Indiana.
Wolf is the chair of the Department of Political Science and a research fellow with the Mike Downs Center for Indiana Politics.
"It's very uncommon to have political donors make such a big public statement about withholding funds and the reason why, and the specific people from whom they're withholding," he said. "Particularly since Eli Lilly is such a big player in the state of Indiana. So that's big."
Across Indiana, Ohio
Statewide, three other members of Congress objected during the electoral vote confirmation. They are U.S. Rep. Greg Pence, U.S. Rep. Jim Baird and U.S. Rep. Jackie Walorski.
U.S. Sen. Mike Braun, who had signaled that he would do likewise, changed his position after the riot and did not object.
Five Ohio congressmen objected. U.S. Rep. Bob Latta, a conservative Republican who represents a portion of northwest Ohio in the ABC21 viewing area, was not among them.
How other companies have reacted
The following companies and associations -- each a top donor to Banks in 2020 -- have provided statements as follows:
National Association of Realtors - "(We) will continue to closely monitor events in Washington in the days leading up to and following Joe Biden's inauguration in order to ensure our political participation." The group has not made any immediate change regarding contributions.
Boeing - "We continuously assess our political action committee contributions to ensure that Boeing supports those who reflect our company's values. Boeing strongly condemns the violence, lawlessness and destruction that took place in the U.S. Capitol on January 6, 2021. Given the current environment, we are not making political contributions at this time. We will continue to carefully evaluate future contributions to ensure that we support those who not only support our company, but also uphold our country's most fundamental principles." The company has suspended all political donations.
American Bankers Association - "We continue to call on all elected officials to do everything in their power to support a peaceful transition of power... As we do after every election, we will meet with all of our stakeholders in the coming weeks to review our political activities from the last campaign cycle before making any decisions about future plans. The troubling events of the last week will certainly be a consideration in those discussions." The group has not made any immediate change regarding contributions.
Northrop Grumman - "We are pausing political action committee giving and evaluating the way forward." (Statement published by Defense News). The company has suspended all political donations.
General Motors - "GM PAC is committed to supporting and building relationships in a bipartisan manner, funds are contributed by GM employees and are distributed to support the election of U.S. federal and state candidates who foster sound business policies and understand the importance of a robust auto industry. Character and public integrity aligning with GM's core values are considered when making PAC contributions," she said. "For 2021, as is standard in any contribution cycle, PAC contributions will be evaluated to ensure candidates align with our core values." (Statement published by Detroit Free Press). The company has not made any immediate change regarding contributions.
ABC21 requested statements or position explanations from the following companies, but did not receive a response as of publication: Raytheon Technologies, MacAndrews & Forbes, Ultra Electronics, L3Harris Technologies, Honeywell International.