Komets to go to full capacity for playoff finale
FORT WAYNE, Ind. (WPTA21) - The Fort Wayne Komets will have a full house for their Kelly Cup finals series.
Fresh off the franchise's conference-playoff win on Tuesday, officials announced that they will be able to lift attendance restrictions for the final games of the 2020-21 season.
The Komets will take on the South Carolina Stingrays for the league championship.
Season ticket holders will be able to make purchases on Thursday, with the general public joining on Friday at 10 a.m.
The team will announce further details shortly.
Games 1 and 2 in the Kelly Cup final series are on the road, followed by up to three games at the Allen County War Memorial Coliseum.
Those are set for June 30, July 2 and July 3.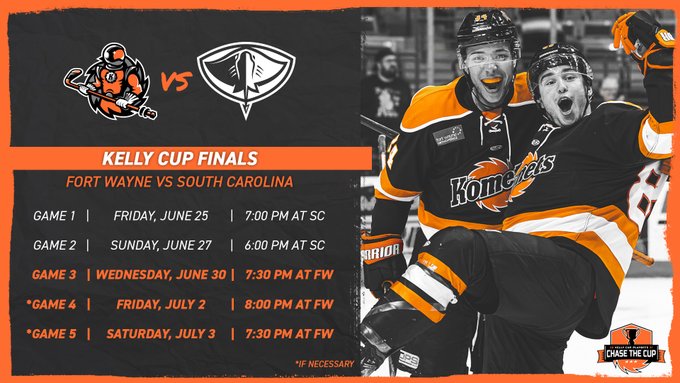 Fort Wayne defeated the Allen Americans in overtime by a score of 3-to-2 on Tuesday to advance in the post-season, winning the series 3 games to 1.